About this community
This is a community space for game development discussion in general. You're encouraged to share what you're working on in the right spot (following the guidelines!), to find help or and to hang out with others and find friends.
I've felt like I've wanted a space like this for a long time, a cozy friendly community to share in the joys of making games and tools for people, and I know many have felt the lack of a similar space. Our hope is that this is one, and hope to see you around.
About luxe
luxe is a cross platform, rapid development game engine. https://createwith.luxe - This community is also a place to discuss luxe, modules around the engine, share your games made with the engine and more. The community is run by the people who make luxe (a game studio).
luxe closed beta
Important to note that luxe is still in closed beta as of right now. This means access to the engine is limited to a subset of users. To find out how to get access visit this page - luxe closed beta
There are sections of the forum not shown if you aren't in the closed beta, and some that are. We aim to make the open beta available as soon as we can, and getting the community stuff set up is part of the process! We're expanding the closed beta and need a better hub to do so.
We appreciate you joining us on the journey and hope to see you in the closed beta!
New and improving
Please note the forums are new, but we're actively working on cleaning up little issues, improving usability and making it a good experience.
If you have thoughts on this forum specifically, you can visit the Site Feedback category and make a topic.
Tell your friends
This community is made up of people just like you, and grows best when we bring friends. If you know someone that's interested in a friendly game development community, you know where to bring them!




---
Side notes!
Forum features
Some features of the forum aren't as visible just yet. Here's some highlights for using the community.
Dark/Light toggle
By default the forum will respect your system dark/light setting automatically.
You can toggle this here manually, or you can visit your Interface preferences to configure the automatic setting.


Table Of Contents
The small gear in the editor allows inserting a nice automatic table of contents on the side bar of your post, just like this one has!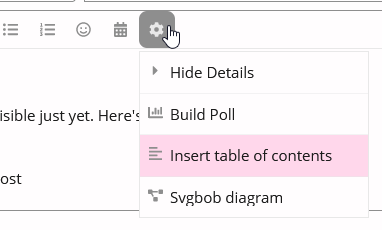 Which adds this on the right hand side, which is automatic and scrolls with the page etc.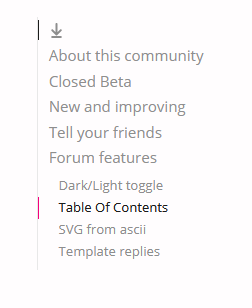 SVG from ascii
This post shows how to do this.
Template replies
A post can include a special block that generates a button to click. This can be useful for some things like bug reports or feedback etc.
Read how to do that here: Discourse-reply-template-component - theme - Discourse Meta