I've been working on a fairly ambitious open world prototype in Unity but I was kind of hitting a wall in productivity, so I decided to take a break from that and instead work on a smaller game in Luxe, and that game is…
Lettermeld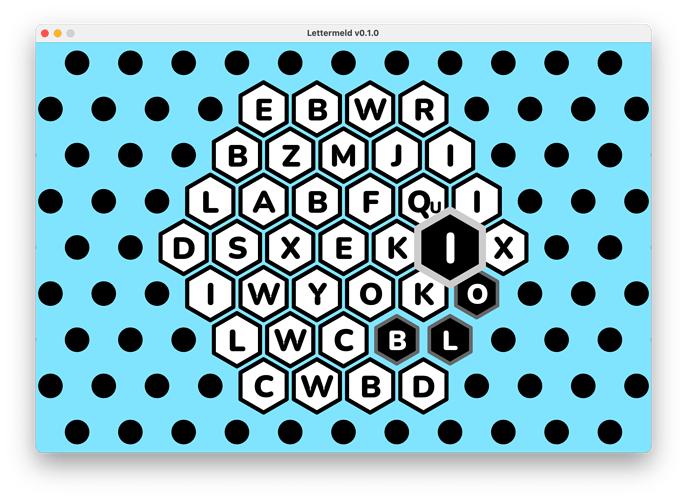 Overview
A basic word game designed to be both relaxing and as competitive as you want it to be; make words using connecting letters pulled out from a hex grid (the order of the letters doesn't matter, just the word) and test your observation and matching skills! The grid's letters are generated based on a daily seed, so if you want to compare your score with friends (or just yourself) that's totally a thing you can do, but I hope it will just be fun without the score-based nature as well.
Development
As I mentioned, I'm making this in Luxe using the native shape drawing and text rendering libraries along with a Core Animation inspired tweening library I cobbled together. It's been pleasant to prototype with. As of right now I have put together a number of the game states along with animations, which I've been posting in my [Twitter thread](https://twitter.com/btsherratt/status/1535772515196338176) of the game progress. There's quite a lot in there right now, selecting letters, popping words out over the playfield, dismissing and cycling the used letters, but I'm just starting on the dictionary creation, so I might talk about that next time!
Release plans
I want to try and finish this up within a month and go back to my other work, but this is actually shaping up nicer than I expected it to. Still not 100% on this, but I might try and make this my first game on Steam. It seems small enough to be manageable, and I would like to have the experience going through that process... watch this space?